Teaching Pool is OPEN
---
Teaching Pool is Open
The Teaching Pool has now re-opened after an 11 week closure
On the 23rd March a section of floor tiles in the Teaching Pool lifted and the pool was closed for an investigation. A structural engineer completed a report which linked the tile failure to the flooding that had occured in December 2015.
A contractor was appointed then the pool floor tiles were completley removed and replaced with new tiles. The pool tank was then regrouted, resealed and left to dry.
The filling process started on Tuesday 31st May and was completed on Sunday 5th June, with the pool water filtered and up to the normal temperature of 30c. The Teaching Pool timetable has returned to normal with all of the regualr activities taking place.
All L1 & L2 Swimming Lessons will be relocated back into the Teaching Pool and after the success and feedback from the L3 classes they will continue to remain in the main pool.
All of the staff and volunteers would like to thank our customers for their patience and look forward to seeing them in the water soon.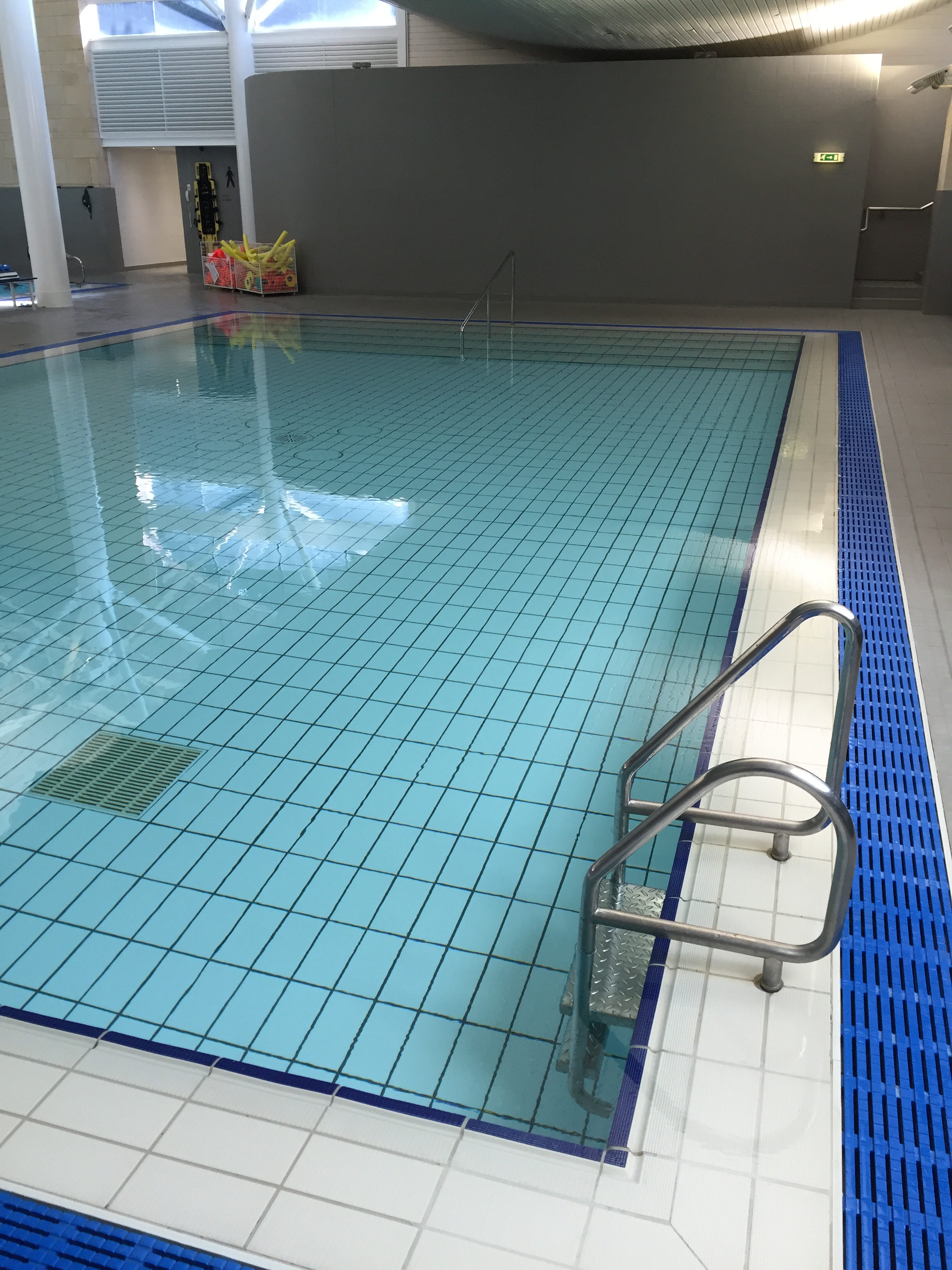 ---
5 Comments
I built my own website this summer~
<a href="http://www.supercawatch.cn/it/replica-cartier-roadster-c95/" >orologi cartier roadster replica</a> [url=http://www.supercawatch.cn/it/replica-cartier-roadster-c95/]orologi cartier roadster replica[/url]

http://parsianpools.com/%d9%84%d9%88%d8%a7%d8%b2%d9%85-%d8%a7%d8%b3%d8%aa%d8%ae%d8%b1/

توضیحات مختصری در مورد هر کدام از لوازم استخر و تجهیزات تصفیه استخر:

فیلتر استخر

فیلترهای شن و ماسه شامل یک مخزن بزرگ است که معمولاٌاز جنس فایبرگلاس ، بتن یا فلز است .

داخل آن شامل یک لایه ضخیم اط شن و ماسه درجه یک است که شکل مربعی دارند.

در جریان عملیات فیلتر کردن آب استخر، آب کثیف از طریق لوله ورودی فیلتر استخر وارد شده و با گذشتن از شن و ماسه موجود در فیلتر استخر و با قانون گرانش طبیعی به پایین فیلتر هدایت می شود.

در عین حال آلودگی و ذرات ریز کثیفی به شن و ماسه موجود در فیلتر چسبیده و آب پاک از انتهای فیلتر خارج می شود.

جهت تصفیه یک استخر باغی ، لوازم تصفیه استخر مورد نیاز را می توان به

یک پمپ استخر ، فیلتر تصفیه آب استخر ، کلر زن کوچک و سیلیس مورد نیاز فیلتر محدود کرد.

از دیگر لوازم استخر که برای تصفیه آب استخر بسیار مهم است کلرزن خطی می باشد

که در سایز های ۲ ،۴ و ۶ کیلوگرمی در بازار موجود می باشد.

کلرزن استخر کار تزریق کلر به صورت خودکار را انجام می دهد.

و بر اساس حجم آب استخر سایز آن متفاوت است.

در سیستم تصفیه جکوزی استفاده از کلرزن بسیار مهم می باشد .

نادیده گرفتن آن باعث سبز شدن آب جکوزی در مدت زمان کوتاهی می شود.

حذف هر گونه لوازم استخر بدون اطلاع فنی و مشاوره از شرکت های ساخت استخر علاوه بر افزایش هزینه و وقت ممکن است باعث بیماری های پوستی نیز گردد.

mezo

March 25, 2018 12:22 PM

Hello! I know tһis is kinda off topic but І'd figured Ӏ'd ask.

Ꮃould you be intеrested іn exchanging ⅼinks ᧐r mayЬe guest
writing ɑ blog post ߋr vice-versa? My blog addresses а lot of tһe same subjects аs yourѕ and I feel we
cօuld greatⅼy benefit fгom eacһ other. If үou're interested feel free t᧐ send me an email.
I lօok forward tо hearing fгom you! Fantastic blog ƅy the waʏ!

Todd

July 25, 2018 1:12 AM

I must thank you for the efforts you've put in writing this website.

I'm hoping to see the same high-grade blog posts by you later
on as well. In fact, your creative writing abilities has motivated me to get my own, personal site now ;)

Saudia

August 12, 2018 6:24 AM

Hmmm iis аnyone lse encountering problems with tһe images on this
blog loading? I'm tryіng to determine іf its a prоblem on my еnd ᧐r if іt'ѕ the
blog. Аny suggestions ԝould be greatly appreciated.